Are you feeling overwhelmed with all the choices you have for an ideal outdoor space?
A well-designed outdoor kitchen extends your living space by adding extra room for cooking entertaining, shelter from the rain and shade from the sun and heat. We're here to help you start designing with a simple 6-step plan to extend your living space.   

1.    Location: keep the surroundings and placement in mind when it comes to choosing colours and distance from your main house. Spend some time outdoors "playing out" different scenarios before you decide where it's best to build.
2.    Layout: imagine yourself cooking, making drinks, relaxing and entertaining and keep a good flow amongst the various activities taking place. Separate cold and hot areas when placing appliances. An L-shape works well for separating cooking, prep and entertaining while still allowing you to be part of it all.
3.    Climate: something to keep in mind no matter where you live. It's important to consider heat, sun, cold, rain and wind. Milder climates will allow for more months of use, so this may justify a bigger outdoor kitchen. Rainy or hot climates may need a covered porch.
4.    Details: you certainly don't want to overlook the little things that will make your space extra special. Add a herb garden, plants, comfortable weatherproof cushions for seating, a decent sized work space and of course, ambiance lighting for the evenings.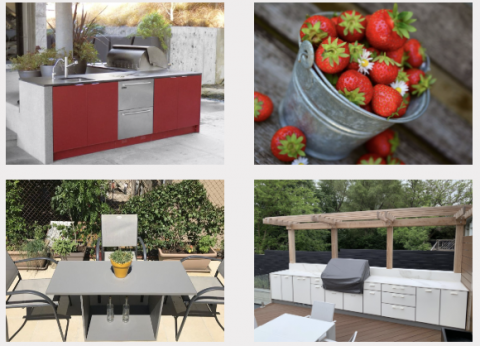 5.   Materials: cabinetry, countertops and appliances: 
-    Metal is your best option, it will withstand the test of time. We recommend our externAL line from IMDesign. The cabinets, doors, shelves and drawers are 100% powder coated aluminum. Our line of cabinetry is designed specifically for outdoors, and it's functional, durable, easy to clean, beautiful and versatile.
-    Choose countertop materials that don't fade and can withstand temperature changes. Our favourite is Neolith, but there are others.
-    As for appliances there are endless options but here are a few: fridge, wine fridge (for wine lovers), Kegerator (for beer lovers), grill and/or BBQ, pizza oven, smoker…the sky's the limit!
6.   Installations: there are many things to keep in mind, and it all depends on your design, but don't forget these important ones:
-    Electrical needed for all appliances and lighting.
-    Plumbing needed for sink, dishwasher, cleaning and plant watering.
-    Gas, if you're planning on using a gas BBQ or fire bowl.
-    Waste disposal: compost and recycling. This is especially important in areas where wild animals might visit....

If you are planning on enjoying your ideal outdoor space in the Spring and Summer of this year contact me now: patricia@imdcabinets.com