A kitchen to create magical moments in... 
Warm Family Living in a Townhouse  

eternAL series in matt white and wood grain finish
Yes, that "wood" is powder-coated aluminum like the rest of the cabinets!! Amazing right??

This project stands out because it was designed to make the best use of every available space using a warm, contemporary, and smart design. The layout was planned for a young family who loves to entertain friends and spend time with their family. 
This beautiful kitchen features a nice eating area on the island, room for two chefs and a small child running around, and a dedicated nook for wine lovers, including additional storage and a built-in wine fridge. 
Our clients knew right from the beginning that their main priority was to have a fully functional living space that was non-toxic. This means a formaldehyde and VOC free environment to raise their children in and a special place to enjoy with friends.
Here are some tips on how to maximize your storage and make the most of your kitchen:  
•    Put organizers in all cabinets 
•    Custom cabinets with adjustable shelves adapted to your needs. 
•    Drawers, drawers, drawers, you can never have enough of them! 
•    Creative storage. Custom cabinets for all nooks and crannies. Small appliance garages are great for hiding clutter and leaving room on the countertop.
•    Taking advantage of the corner cabinets with pull-outs.
•    Cabinets with large doors allowing use of lift systems for a greater visibility of objects. 
•    Recycling and waste bins hidden in cabinets. 
•    Multiple functions integrated in worktops, eating areas, prep and cooking, washing up…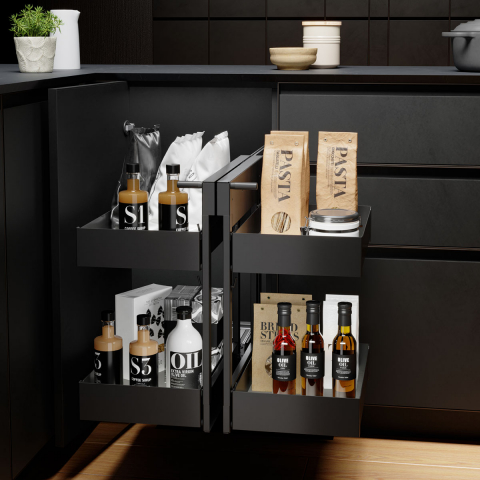 All our organizers, pull-outs and lift systems are non-toxic, perfect for our 100% aluminum custom cabinetry.
 
If you would like some help optimizing your space, at IMDesign, we can design not only a beautiful, but a functional kitchen adapted to your needs.

A special thanks to our amazing clients for modeling in their home for the photo shoot!